AVP America Memberships Are Required
XSV Volleyball is an AVP America partner and promotor. We require all players of our events be AVP America members.
AVP America is the largest grassroots outdoor volleyball organization in the United States. Currently, AVP America is comprised of over 180+ organizations and over 45,000 players.
For 2022, the Bronze membership $15 is the minimum required to compete in our events. Parents can create the Basic membership at $0 cost to manage their athletes.
AVP National Ranking System
National Championship Tournaments
$21,500 Grass Grand Prix
30% off Wilson Volleyball products
20% off Rox Volleyball merchandise
Discounts to the AVPs online shop including at events
Discounts on VIP tickets for any AVP Pro Tour event
Exclusive early access to VIP tickets before they go on sale to the public
If this is your first time registering for one of our events, you will want to head over to AVP America and become a member if you are not already. New members, be sure to select "XSV Volleyball" as your affiliated organization. Once you have your AVP Membership, you will go to https://xsv.bracketpal.com and select the event you want to play in.
A team is not fully registered and will not be included in an event until the team has paid in full by the event cut off time (typically the day before at 12:00PM noon). This prevents "No Shows" and ensures we are able to fully prepare for an event and are not scrambling the morning of the event trying to get pool assignments while simultaneously handling registration.
There must be at least 4 teams for a division to run. The tournament director may combine divisions as necessary (however, we will make every effort to split out divisions for playoffs if divisions are combined for numbers reasons).
*Please sign up early, it helps us out a lot.
What to Expect at the Tournament
Time Commitment:
Our goal is to provide players with the most volleyball we can, while still wrapping up the finals around 6:00PM.
Example Schedule:
8:00 Player Check-in starts
8:45 Youth Player's meeting
8:55 National Anthem
9:00 Youth Pool Play Starts
9:15 Adult Player's meeting
9:30 Adult Pool Play starts
3:00 Pool Play ends
3:30 Bracket play begins
6:00 Tournament ends
Start Time:
We start on time. Teams that are more than 5 minutes late to their first set, forfeit the set. If the team is more than 15 minutes late they forfeit the match (if there is more than one set).
Facility (Parking, Bathrooms, Shower, etc.)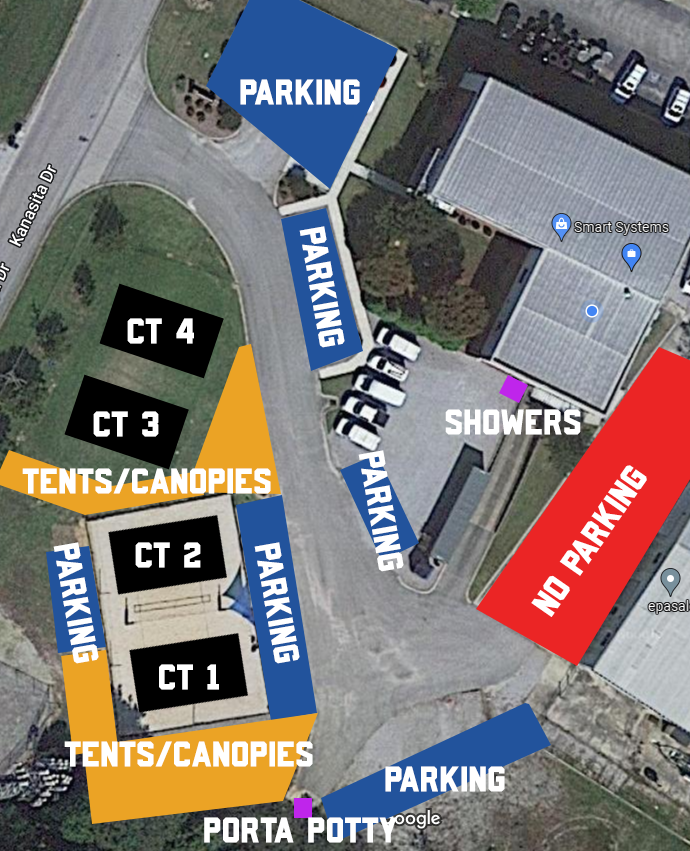 Bathrooms:
We have a porta potty. We try to keep it clean and nice, but it is what it is. Maybe use the bathroom before getting to the event. The Smart Systems offices are not open for liability and safety issues.
Parking:
Please park in the designated areas. For our larger events, consider carpooling please.
Showers:
We have a warm shower and a cold hose available to shower off sand and sweat.
You will be placed in a pool with 4-7 other teams. You will play each team in your pool 1-2 sets. Teams in your pool will be assigned to ref each match. Once pool play is complete, the tournament director will use your record to determine if you make it into bracket play. If you make it out of your pool you will be seeded based on your record in comparison to all other players making it to bracket play in your division.
The chart below shows the sets and points you will play to based on the number of teams in your pool.
| | |
| --- | --- |
| Number of Teams | Sets & Points |
| 4 | 2 sets to 21 (cap at 23) |
| 5 | 2 sets to 17 (cap at 19) |
| 6 | 2 sets to 15 (cap at 17) |
| 7 (2 nets) | 2 sets to 15 (cap at 17) |
Points, on average, take about a minute to play. Using the chart above pool play should take around 5-6 hours. With a 9:30AM start, this puts us at wrapping up pool play around 3:00 and starting bracket play.
The below chart will show how many teams will be taken from pool play to bracket play.
| | |
| --- | --- |
| Teams in Division | Teams to Bracket Play |
| 14 or less | up to 10 |
| 15-19 | 12 |
| 20 and up | 16 |
All bracket play rounds up until quarters are single sets to 21 (no cap)
If pool play is finished for an entire division prior to 3:00, that division's quarter final bracket play will be best 2 out of 3 matches to 21 (no cap). Otherwise, it will be single set to 21 (no cap).
Semis and Finals matches will be 2 out of 3 matches to 21 (no cap). Deciding set is to 15. No cap.
Any other matches will be 1 set to 21 (no cap).
Tournament director reserves right to adjust if time constraints become an issue or allow for more play.
Sunscreen
Chair and Canopy Tent
1-2 Beach towels
Shoes and a change of clothes
Change of clothes (layers)
Water/Powerade/etc.
Food and snacks
Practice ball (game ball is Wilson Optx)
Wear what you are comfortable in; swim trucks, bikinis, spandex, shorts, sweat pants. You just want to be comfortable. For grass, some people wear shoes and some play bare foot.
Dogs are not allowed. Sorry, we love them too, but the risk of injury to the players and the dogs are too high. Also, many players play barefoot and no one wants to step in dog pee or poop.
Online Check-in and Self Reporting Scoring
Each player will be sent an email before the tournament starts that will provide instructions for self check-in. This is done on your mobile device by going to https://xsv.bracketpal.com.
There will be QR codes located at each court. When scanned they will take you to the scoring page for that pool. Players are responsible for entering and checking their scores.
We will be using the Bracketpal self-scoring system for this event. IT IS AWESOME! If you have not used it before please take a minute to watch this video: https://www.youtube.com/watch?v=j96as5hlAaM
Refunds for Cancellations
Teams that cancel up until 48 hours prior to the event cut off will be refunded 100% of their registration fee.
Teams that cancel within 48 hours of the event will be refunded 50% of their regestration fee.
Teams that cancel after the registration cut off (typically 12:00PM (noon) the day before an event) or "No Show" will forfeit 100% of their registration fee.
Weather cancelations will happen if the playing surfaces are no longer safe to play or if lighting strikes within 5 miles of the tournament site.
If the event is canceled before game play starts, each team will receive a 100% refund of their registration fee.
If the event is canceled after game play starts, each team will receive a 50% refund of their registration fee.
If the event is canceled after pool play is complete, cash and prizes will be divided among teams that are still active.
All XSV events follow the AVP Rules.
Notable rules and/or exceptions:
Official Ball The official ball of all outdoor XSV tournaments is the Wilson Optix ball.
Nets If you contact any portion of the net during play, it is a fault.
Antennae If there are no antennaes, the poles are the antennae. If the ball touches or passes over the poles, it is out.
Court Boundaries You may play the ball anywhere except adjacent courts that have active play on them.
Blocks Block is a touch (except in fours). Directed block is allowed in all formats.
Open Hand Receive Is allowed if the ball is not double contacted.
Open Hand Digs Finger action and doubles are allowed on first contact if the ball is hard driven.
Open Hand Tips No open handed or finger action tips are allowed in any format.
Freeze Rule Does not apply in any format or division.
Centerline If a player goes under the net during play, it is not a fault, unless it interferes with the other team's ability to make an immediate play the ball.
Warm Ups Teams are allowed a maximum of 5 minutes to warm up prior to a match.
Time Outs One 60 second time out is allowed per team per set. One 60 sesond techical timeout is allowed when the combined match score equals 21 points.
Game Delay Any delay longer than 5 minutes creates a forfeiture of the current set, including those caused by injury. The tournament director has discretion to extend injury time-outs.
Courtesy Rule Any player can serve to any opposing player regardless of gender or who was served previously.
Hand Setting A double contact is whenever the refs sees two discernible contacts of the ball when it enters or leaves the players hands. Spin is an indicator of a double contact, but is not itself a fault.
Court Sizes:

Doubles and Triples will be played on a court with the dimensions of 52'6" x 26'3" (16x8m).
Quads will be played on a court with the dimentions of 60' x 30' (20x10m)
Net Heights:

All men's events will be played on a net height of 8' (2.43m).
All women's events will be played on a net height of 7'4" (2.24m).
Coed events will be played on a net height of 8' (2.43m).
Reverse coed events will be played on a net height of 7'4" (2.24m).
14U and 16U events will be played on a net height of 7'4" (2.24m).
12U events will be played on a net height of 7' (2.13m).
Youth Age Classifications
18-and-Under Division:
Players who were born on or after September 1, 2002
16-and-Under Division:
Players who were born on or after September 1, 2004
14-and-Under Division:
Players who were born on or after September 1, 2006
12-and-Under Division:
Players who were born on or after September 1, 2008
We encourage your parents, family and friends to come cheer for you and to watch you play. However, there is no coaching allowed during game play from parents or spectators. This includes instrutions of any kind (e.g. get your serve in, move your feet, etc.) Sideline coaching will result in a loss the point and if it continues the loss of the set.
Additionally, parents and spectators may not influence or question the official's judgment at any time.
If your team has a USAV or AVP registered coach that carries current IMPACT and Safesport certifications they are allowed to coach you as long as they check-in during registration for their wristband and follow USAV outdoor coaching rules.
Number of Coaches allowed: USAV: A coach and no more than one assistant coach.
Coaches, when present, may cheer the exceptional play, but may only instruct during timeouts, court-switches, and between sets from the coaches box.
During the official (5-10 min) timed warm-up, coaches may instruct from the sideline, but may not engage in drills.
During play, coaches observe from the player area.
Instruction may only take place during timeouts, between sets, and (non-disruptively) during side-changes.
NEW: Coaches in age groups 18 & under may call time out for their team.
Coaches may not influence or question the official's judgment at any time.
Coaches must register for each event but, may coach more then one team during the event.
Open/AA: For elite level competition. Players play and train year-round. Players have trained extensively on individual volleyball skills. Excellent setting with high velocity attacks. Float, jump float, and/or high-velocity jump serving. Pinpoint passing.
A: For advanced level competition. Players have trained on individual volleyball skills. Advanced setting and serving. Good defense.
B: For intermediate level competition. Players have limited training on individual volleyball skills. Hand setting calls are not quite as strict, but doubles and lifts are still considered a foul. Consistent 3 hit rallies.
Recreational: For beginners who are still working on basic skills. Father/ daughter teams often play in this division.
Women can play in Men's divisions as long as they are of the same rank (e.g. an A ranked women can play in Men's A).
The tournament directors reserve the right to move any team to another division for purposes of promoting fair play and/or to make the tournament run more efficiently.
Sandbagging is when a player competes in a division that is below his or her skills. Sandbagging is strictly prohibited. If a player is playing in a lower division than his/ her skills indicate, the Tournament Director has the discretion to disqualify player(s) from the tournament.